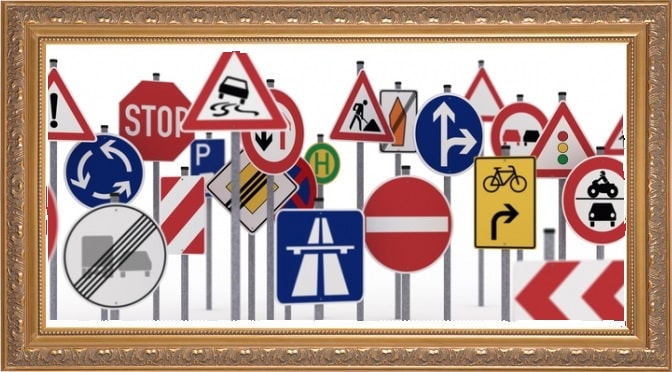 [ Read this in English ]
Is het überhaupt mogelijk om goed te zijn in kunst?
Vorig jaar heb ik een zeer plezierige week doorgebracht in een hotel aan het strand, waar ik de training Inzicht en Invloed van Bureau Zuidema volgde. Om tegenwicht te bieden voor de emotioneel veeleisende, confronterende inhoud van de cursus als geheel, telde het programma van de laatste dag een oefening die nergens anders voor diende dan het genereren van een goed gevoel. De oefening bestond uit vijf minuten om voor de groep alles op te sommen wat je aan goede eigenschappen en positieve punten over jezelf kon bedenken*, waarna je mocht toehoren hoe de anderen beurtelings alle positieve dingen opsomden die zij van je hadden gezien. Het moge geen verrassing zijn dat iedereen zich na afloop van deze oefening erg goed voelde over zichzelf; het was immers niets meer of minder dan een bad van oprechte en onverwachte complimenten.
Toen het mijn beurt was, noemde ik als een van mijn positieve punten dat ik goed kan autorijden**.  Daarop reageerde medecursist Michael, een geweldige vent maar veel meer een motorrijdende, maximumsnelheid-verslindende, met-vier-biertjes-de-snelweg-opkunnende macho dan ik ooit zou kunnen zijn, zonder alle dédain uit zijn stem te kunnen filteren:
"Je kan je zeker heel goed aan de regels houden."
Nu je het zegt, Michael: inderdaad! Ik kan goed autorijden, want ik kom zo snel, veilig, en efficient als mogelijk van A naar B, zonder de verkeersregels te overtreden.
En toen ik die opmerking, en mijn mentale reactie, later herkauwde, kwam het me voor dat het behalen van het best mogelijke resultaat binnen de regels daadwerkelijk de enige zinvolle definitie is van goed zijn in wat dan ook.
Goed kunnen autorijden is per definitie een kwestie van verkeersregels naleven, want die regels vormen een integraal onderdeel van wat autorijden inhoudt. Te snel rijden, de weg afsnijden, de binnenbocht nemen in een bocht naar links over een doorgetrokken streep, het is allemaal weliswaar snel, maar louter snelheid maakt je een goede coureur, geen goede automobilist. Een goede automobilist is vaardig in het bedienen van zijn auto, kent de verkeersregels en leeft die na, houdt rekening met veiligheid en omgeving, en beschikt over alle overige kennis en vaardigheden die je nodig hebt om jezelf en je passagiers veilig van A naar B te krijgen.
Op vergelijkbare wijze betekent goed zijn in schaken dat je goed speelt binnen de regels van het spel***. Een goede beurshandelaar behaalt een mooie winst zonder voorkennis, diefstal of manipulatie van de Liborrente****. Een goede atleet loopt een geweldige wedstrijd zonder valse start, doping of raketmotoren aan zijn schoenen.
Winnen door valsspelen betekent niet dat je ergens goed in bent, behalve in valsspelen.
Maar als goed zijn op een bepaald domein betekent dat je geweldige resultaten behaalt binnen de grenzen die door de regels van dat domein worden gemarkeerd, kan je dan überhaupt goed zijn op een domein dat geen regels kent?
Waarmee we op de kunsten komen. Want de kunsten kennen geen regels.
De enige kunst waar ik ook maar een beetje verstand van heb, is natuurlijk de schrijverij. Eerder heb ik al geschreven over de zogenaamde Regels van het Schrijven, maar de waarheid is dat werkelijk elke schrijfregel bedoeld is om te worden overtreden*****, zodra je de regel goed genoeg begrijpt om hem te kunnen overtreden. Bovendien is het werk van schrijvers die vaardig genoeg zijn om ongestraft de zogenaamde regels te overtreden, vaak de beste, meest opwindende, ontzagwekkende en prijswinnende fictie.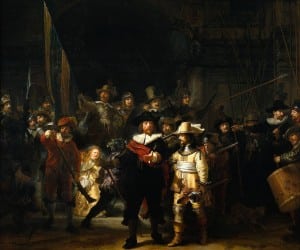 En dat geldt voor alle kunstvormen. Het meest voor de hand liggende voorbeeld is misschien wel Rembrandt. Hij veroorzaakte met zijn Nachtwacht opwinding die tot de dag van vandaag voortduurt, door de destijds geldende regels te overtreden voor zowel mise-en-scene als belichting.
Maar het geldt ook voor populaire cultuur. Hoeveel van de popliedjes die een abonnement lijken te hebben op de hoogste regionen van de top-1000, houden zich braaf aan de standaardstructuur van couplet-refrein-couplet-refrein-brug-couplet-refrein? En in de filmwereld schiet me meteen Magnolia te binnen, een briljant ensemblestuk dat een enorm emotioneel effect sorteert door middenin de film alle karakters gelijktijdig een lied te laten zingen, tegen alle conventies van filmdrama in.
Maar als er in de kunsten geen regels bestaan, of louter om te worden overtreden: wat is dan goede kunst? Is kunst goed als het bestaande regels overtreedt? Of nog extremer: is het dan überhaupt ooit mogelijk om te zeggen dat een kunstwerk goed is?
En is het leven zelf, met haar totale gebrek aan duidelijke regels, in feite kunst?
---
* En het bleek voor elke deelnemer nog een hele uitdaging om die vijf minuten te vullen.
** Even los van de vraag of ik daar inderdaad goed in ben; voor de strekking van dit stuk is voldoende dat ik het op dat moment dacht.
*** Niet dat ik ook maar het flauwste vermoeden heb hoe je ooit zou kunnen valsspelen bij schaken.
**** Wat best eens zou kunnen betekenen dat goede beurshandelaren uiterst dun gezaaid zijn.
***** Bij het schrijven van Ontmoeting met Vormgever was ik onwetend en naief genoeg om minstens vier van de zogenaamde schrijfregels te overtreden die destijds actueel waren: 1. schrijf wat je kent (ik plaatste het verhaal in Manhattan), 2. vertel je verhaal op chronologische volgorde, 3. schrijf nooit in de eerste persoon en 4. als je je neiging om in de eerste persoon te schrijven dan toch niet kan onderdrukken, help je hoofdpersoon dan onder geen voorwaarde om zeep.