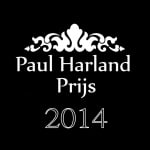 Sommige verhalen uit de Paul Harland Prijs 2014 hebben mijn bureau bereikt voor inhoudelijk commentaar. Hieronder vind je in de aanloop naar het Gala van het Fantastische Boek, waar de prijswinnaars bekend worden gemaakt, elke werkdag een citaat uit de commentaren die ik heb geschreven.
---
Week 6
5 februari:
Als uitsmijter van de reeks dit keer twéé citaten. Morgen, vrijdag, laat ik achterwege, zodat we ons allemaal onbekommerd kunnen verheugen op het Gala!
"Je laat je te vaak verleiden tot mooischrijverij. Nu en dan pakt dat leuk uit, maar net zo vaak leidt het tot potsierlijke zinnen en ronduit malle beeldspraak."
"Gebruik je vaardigheden volgende keer voor iets nieuws en eigens, en dan haal je de longlist ongetwijfeld wel."
4 februari:
"Dit is een vingeroefening, een scene uit iets groters, een prozaïsch kundig genoteerd idee. Waar is de spanningsboog in het verhaal? Waar ontwikkelen de karakters zich? Waar doen ze überhaupt iets?"
3 februari:
"Jammer zeg. Je taal en je stijl suggereren dat je kan schrijven, maar dit is geen verhaal."
2 februari:
"Stylistisch heeft het verhaal nog veel polijsten nodig, van de gebrekkige spelling en grammatica, tot hobbelige en moeizame zinsconstructies, tot daadwerkelijke stijlfouten. Als je wilt blijven schrijven, moet je jezelf trainen om dit soort dingen te zien en beter te doen."
---
Week 5
30 januari:
"Er zijn twee dingen fundamenteel mis met dit verhaal: stylistische mankementen en een veel te hoge dosis tell-don't-show."
29 januari:
"Misschien wordt dit verderop wel een geweldig verhaal, maar met de beste wil van de wereld ben ik op 20% (dus na 2000 woorden, de lengte van een kort-kort verhaal) nog niet gegrepen."
28 januari:
"Op talloze plaatsen verveel je je lezer met details die je verhaal niet verder helpen en zo generiek zijn dat ze je wereldbouw—als je die ermee wil bereiken—ook niet steunen."
27 januari:
"Het leest nu of je elke inval die je hierover had direct hebt verwerkt op het moment dat die je inviel. Dat is één manier om te schrijven, maar dat levert wel een verhaal op dat—wederom—nood heeft aan een stevige redactieronde (of drie)."
26 januari:
"Grammaticaal is er nogal wat mis met veel van je zinnen en alinea's, van ongemakkelijk kommagebruik tot echt bonkige zinsconstructies en wartaal."
---
Week 4
23 januari:
"Alles bij elkaar opgeteld is dit verhaal een geinig, maar vrij uitgekauwd ideetje, dat met wat meer zelfbewustzijn een leuk niemendalletje zou kunnen zijn, maar zeker niet zoveel woorden nodig heeft."
22 januari:
"Te traag openen is niet goed in een kort verhaal, maar jij slaat door naar het andere uiterste, alsof je de eerste twee à drie alinea's van je verhaal hebt weggelaten."
---
Net als bij de citaten van Esther Scherpenisse staat alle speculatie vrij over welk verhaal dit betreft. Leef je hieronder uit in de vorm van commentaar, of doe het op Facebook!