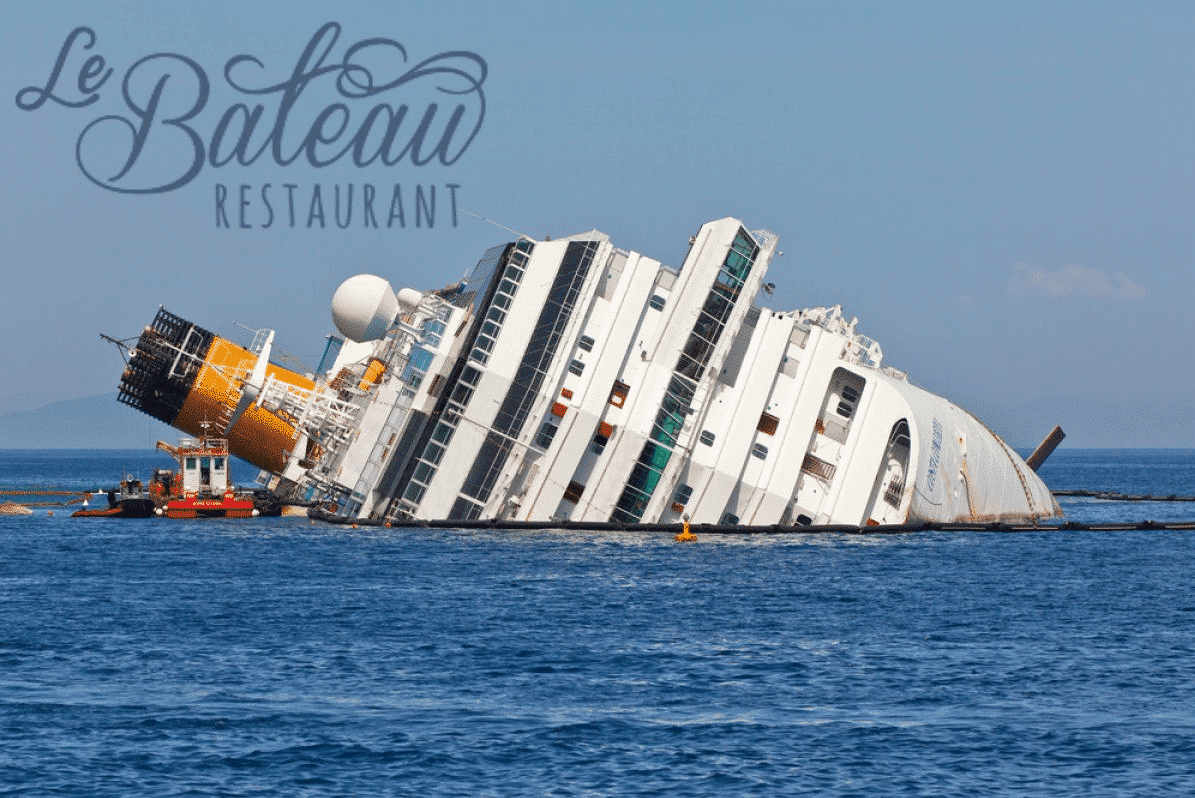 Het laatste woord hierover: vandaag werd ik tijdens het boodschappen doen in de Jumbo gebeld door de restaurateur van Le Bateau, Yves Mommersteeg. Een goed gesprek volgde, waarin we over en weer de eigen grieven hebben verwoord, en hebben geprobeerd ons in de ander in te leven.
Natuurlijk had Yves zijn wantrouwen over mijn reservering een stuk klantvriendelijker onder mijn aandacht kunnen brengen; natuurlijk had ik wat minder opvliegend kunnen reageren op de vreemde en teleurstellende ontvangst. De kous is af, de excuses zijn gemaakt, en niet alleen ben ik van harte welkom om nog eens te komen eten, ik ben zelfs van zins om die uitnodiging bij gelegenheid te verzilveren.
En ze leefden nog lang en gelukkig.
---
Op een uitstapje in mijn eentje naar Den Bosch een diner bij Restaurant Le Bateau geboekt, omdat ze op The Fork zo hoog aangeschreven staan, en de menukaart aantrekkelijk klonk. Door de verbijsterende ontvangst ben ik helaas niet aan het eten toegekomen, maar de ontvangst op zich verdient zijn eigen, hartgrondig negatieve recensie. Een dieptepunt in gastheerschap!
TL;DR: Ik heb het eten nooit kunnen uitproberen. Want voordat ik überhaupt aan tafel mocht, werd ik door restarateur Yves Mommersteeg gesommeerd aan de bar te komen zitten. Vervolgens onderwierp hij me aan een verhoor, omdat hij de authenticiteit van mijn reservering niet vertrouwde. Waarom at ik alleen op een zaterdag? Werkte ik stiekem voor The Fork? Was ik een van die dure no-shows waar hij zoveel last van heeft (terwijl ik voor hem stond)? Uiteraard ben ik woedend weer vertrokken.
Ik had Le Bateau gevonden via The Fork, maar probeer altijd via het restaurant zelf te boeken, omdat dat voor restaurants voordeliger is. De reservering via de site van Le Bateau bleek echter ook via The Fork te verlopen, met als eindresultaat dat Le Bateau de contactgegevens van mijn The Fork-account kreeg. Daar ging het kennelijk mis in de ogen van Yves.
Als antispammaatregel is het e-mailadres van dat account voor mij namelijk herkenbaar als behorend bij mijn The Fork-account; en The Fork heeft mijn echte mobiele nummer niet omdat ik er zuinig op ben wie dat van mij krijgt. Le Bateau kon mij dus telefonisch niet bereiken en de tekst 'thefork' stond in mijn e-mailadres (vóór de '@').
Een dag van tevoren kreeg ik een e-mail van Yves Mommersteeg. Ze konden me telefonisch niet bereiken voor bevestiging van mijn reservering, omdat mijn nummer niet leek te kloppen. Ik mailde meteen terug dat ik inderdaad vast van plan was om te komen eten, en stuurde mijn juiste mobiele nummer mee. Vrijwel direct werd ik door iemand anders van Le Bateau gebeld, en kon ik nogmaals bevestigen dat ik heus van plan was om te komen, en dat ik graag een tafeltje had en niet aan de bar zat.
Alles in kannen en kruiken, dacht ik.
Tot ik op het afgesproken tijdstip binnenstapte bij Le Bateau. Ik liep naar de bar om me kenbaar te maken. In het voorbijgaan zag ik een gedekt tafeltje. Ik gebaarde naar het tafeltje, met de vriendelijke, gemoedelijke vraag aan het pesoneel bij de bar of dat mijn tafel was.
'Komt u eerst maar even aan de bar zitten,' was het antwoord van Yves, die me met een ernstig gezicht bij de bar stond op te wachten.
Ik begon uit te leggen dat ik gisteren nog met zijn medewerker had afgestemd dat ik liever niet aan de bar zat. De restaurateur walsde over mijn woorden heen.
'Dat kan zijn, maar ik wil u eerst een paar vragen stellen. Waarom heeft u een vals nummer opgegeven, en waarom heeft u niet gezegd dat u voor The Fork werkt?'
Mijn verbijstering moet van mijn gezicht zijn gespat. Maakte hij een grap? Maar Yves was serieus. Hij wilde mij werkelijk op hoge toon ondervragen over mijn antecedenten. Vond alles aan mijn reservering verdacht, van de gisteren al opgehelderde contactgegevens tot het feit dat ik op een zaterdag in mijn eentje uit eten wilde. Zat immers al 27 jaar in het vak, dus wist heel goed waar hij het over had. Had zoiets in 27 jaar nog nooit meegemaakt. En het mooiste: hij bedoelde het helemaal niet ongastvrij, zei hij, dus als ik zijn vragen naar tevredenheid had beantwoord, dan was ik heus nog van harte welkom. Maar hij had veel te maken met no-shows, die hem veel geld kostten. Zei hij tegen de gast die voor zijn neus stond, dus zeer beslist geen no-show was.
Zelfs de serveerster of gastvrouw die naast hem stond, knikte begrijpend bij alles wat ik tegenwierp, en bleef geruststellend tegen me glimlachen, alsof ze wilde zeggen dat hij niet echt zo'n lompe idioot was als hij leek. Maar die glimlach overtuigde me niet. Daarvoor was Yves Stommermeeg te lomp en te idioot.
Na vijf minuten van deze dwaze nonsens heb ik ziedend rechtsomkeert gemaakt. Verderop heerlijk gegeten.
---
PS: Het verhaal kreeg deze week nog twee staartjes vol karma.
Begin deze week kreeg ik van TheFork.nl bericht dat mijn account was geblokkeerd, omdat het hen 'ter ore was gekomen' dat ik in strijd met de gebruiksvoorwaarden een niet-bestaand telefoonnummer had opgegeven in mijn account. (Ik laat het als huiswerkopdracht aan de lezer hóe het hen ter ore was gekomen.)
Ik ben de beroerdste niet, en vind The Fork best een handige dienst, dus ik verstrekte per ommegaande mijn werkelijke nummer. Waarna mijn account onmiddellijk weer werd geactiveerd.
Heel snel daarna kreeg ik wéér een bericht van The Fork. Ze hadden in mijn recensie van Restaurant Le Bateau gelezen dat ik als The Fork-gebruiker anders was behandeld dan andere gasten. Dat was een ernstige schending van de gebruiksovereenkomst voor aangesloten restaurants. Daarom zouden ze even een hartig woordje gaan wisselen met de betrokken restaurateur.
Ik wens Yves Mommersteeg veel succes bij dat gesprek.