[ Read this in English ]
Nu ook in Het Parool (22 januari 2015):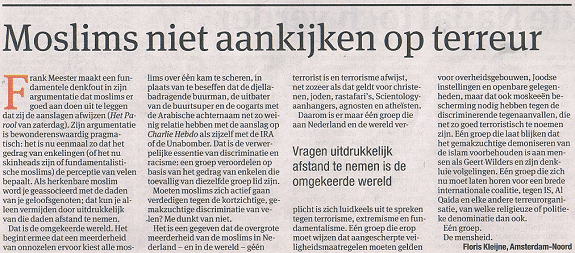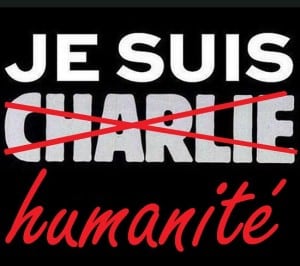 Veel te veel is al gezegd over de noodzaak—of zelfs de verplichting—van Moslims om de Charlie Hebdo-moorden te veroordelen en daar afstand van te nemen. De meest verleidelijke redenering daaromtrent, van filosoof Frank Meester in Het Parool van afgelopen zaterdag, is bewonderenswaardig pragmatisch: het is nu eenmaal zo dat het gedrag van enkelingen (of het nu skinheads zijn of fundamentalistische moslims) de perceptie van velen bepaalt. Als herkenbare Moslim word je geassocieerd met de daden van je geloofsgenoten; dat kan je alleen vermijden door uitdrukkelijk afstand te nemen.
Maar dat is natuurlijk de omgekeerde wereld. Het begint ermee dat een meerderheid van onnozelen ervoor kiest om alle Moslims over een kam te scheren, in plaats van zich te realiseren dat de djellaba-dragende buurman, de uitbater van de buurtsuper, en de oogarts met de Arabische achternaam net zo weinig relatie hebben met Charlie Hebdo als zijzelf met de IRA of de Unabomber. Dat is de verwerpelijke essentie van discriminatie en racisme: een hele groep veroordelen op basis van het gedrag van enkelen die toevallig van diezelfde groep lid zijn.
Moeten Moslims zich nu actief gaan verdedigen tegen de kortzichtige, gemakzuchtige discriminatie van velen? Me dunkt niet.
Het is een gegeven dat de overgrote meerderheid van de Moslims in Nederland—en in de wereld—géén terrorist is en terrorisme afwijst, net zozeer als dat geldt voor Christenen, Joden, Rastafarians, Scientology-aanhangers, Trekkies, evolutionair biologen, anti-vaccinatieactivistens, agnosten en atheïsten. Geen religieuze of politieke groepering heeft het alleenrecht op terrorisme, net zo min als enige groep het alleenrecht heeft op slachtofferschap.
Daarom is er maar één groep die aan Nederland en de wereld verplicht is om zich nu luidkeels uit te spreken tegen terrorisme, extremisme en fundamentalisme. Eén groep die erop moet wijzen dat aangescherpte veiligheidsmaatregelen op dit moment niet alleen moeten gelden voor overheidsgebouwen, Joodse instellingen en openbare gelegenheden, maar dat ook moskeeën bescherming nodig hebben tegen de discriminerende tegenaanvallen, die net zo goed terroristisch te noemen zijn. Eén groep die in woord en daad moet laten zien dat er veel meer is dat alle inwoners van Nederland verenigt dan wat ze polariseert. Eén groep die laat blijken dat het gemakzuchtige demoniseren van de Islam voorbehouden is aan mensen als Geert Wilders en zijn denkluie volgelingen. Eén groep die zich nu moet laten horen voor een brede internationale coalitie, niet alleen tegen IS en Al-Quaeda, maar ook tegen Boko Haram en elke andere terreurorganisatie, van welke religieuze of politieke denominatie dan ook.
Eén groep.
De mensheid.