[ Read this in English ]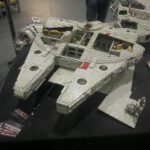 Als mijn bezoek aan LonCon3 een Kickstarter-campagne was geweest, stond ik nu te klappen en juichen en beloningen op te sturen, want mijn stretch goals, hoe impliciet ook, zijn allemaal binnen.
Bescheiden Plannen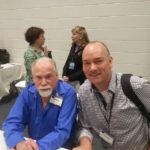 Toegegeven: mijn verwachtingen van de Con waren bescheiden. Een paar interessante discussiepanels bijwonen, handtekeningen incasseren van Christopher Priest en Robert Silverberg (foto) in enkele van mijn oudste boeken, poppetjes kijken bij de parade van cosplayers in de centrale hal, ontdekken wat een Con eigenlijk inhoudt. Vooral was ik van plan om heel veel mensen te treffen: van mede-organisator van de Paul Harland Prijs Martijn Lindeboom, die ik nooit eerder over iets anders dan PHP-zaken had gesproken, tot andere leden van de Nederlandse "delegatie", tot andere leden van de Codex Writers Group, die ik ondanks mijn tien jaar oude lidmaatschap in grote meerderheid nooit in levenden lijve had ontmoet, tot andere leden van de SFWA, die in grote meerderheid volkomen vreemden zouden zijn. Natuurlijk stond er ook een treffen van Villa Diodati op het programma, dus met alle ontmoetingen, en het voederen en drinken dat dat met zich mee zou brengen, leek mijn schema tot de rand gevuld met calorieën, alcohol, en schrijvers.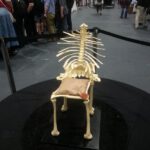 Mijn primaire doelen waren vooral om mezelf niet al te zeer voor schut te zetten in de twee discussiepanels waar ik aan meedeed, en om mijn uur achter de signeertafel niet volledig van God en alleman verlaten door te brengen. Stretch goals? Ik had ze in het achterhoofd, maar achtte ze niet waarschijnlijk genoeg om zelfs maar onder woorden te brengen.
Missie Geslaagd
Op vrijdagochtend kwam in mijn eerste panel, "I Like My Secondary World Fantasy A Little On The Techy Side", de plaats ter discussie die technologische ontwikkelingen hebben in epische fantasy. Gespreksleider Django Wexler bracht de discussie met Robert Jackson Bennett, Glenda Larke en Adrian Tchaikovsky op onderwerpen als de uitdagingen die technologie in magische fantasy met zich meebrengt, de redenen waarom zo veel fantasyromans in onveranderlijke werelden worden geplaats, en de gelijkenissen tussen magie en technologie. Ik zette mezelf niet voor schut of aap, en besefte aan het eind zelfs dat ik veel plezier had beleefd aan het panel en mijn bijdrage. Het hielp mee dat het publiek aandachtig leek te luisteren en flink wat intelligente vragen stelde.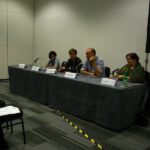 Op zaterdagmiddag stelde mijn tweede panel een zorgwekkende vraag aan de deelnemende auteurs: staan wij "Always Outside, Looking In?" Aliette de Bodard, Thomas Olde Heuvelt, Ju Honisch en ik kwamen tot de gelukkige conclusie dat de uitdagingen van het schrijven in Engels als tweede taal weliswaar reëel zijn, maar niet onoverkomelijk, en dat de internationale genregemeenschap in het algemeen open staat voor nieuwkomers van buiten het Engelse taalgebied.
En mijn signeersessie kwam vrij aardig tegemoet aan mijn verwachtingen: hoewel ik als schrijver te onbekend was om handtekeningenjagers te trekken, kwamen Grayson Bray Morris, Boukje Balder en Paul Evanby langs voor korte babbels, en kon ik eindelijk Hallo zeggen tegen collega-schrijver en mede-Amsterdammer Carolyn Chang, en haar gesigneerde exemplaar ter hand stellen van Mashup – A Collection, de bundeling van al mijn gepubliceerde korte verhalen (nog 13 exemplaren beschikbaar!). De onbekende die ook naar mijn tafel kwam, bleek geen van mijn gedrukte werken te bezitten en niet uit te zijn op mijn handtekening, maar dat was niet erg, want…
Stretch Goals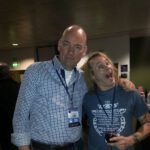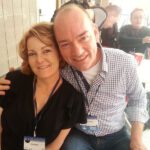 Mijn eerste impliciete strech goal werd vrijdagavond al bereikt, toen ik had ontdekt dat niet één, maar twéé van mijn Writers of the Future-maatjes ook aanwezig waren op de Con–en op de SFWA-receptie. Cat Sparks, mijn favoriete Australiër en de scherpe hoek in ons triumviraat van WotF 2005 (met Matt Reiten), bleek plotseling, tegen alle verwachtingen in, toch aanwezig te zijn, en drong me de hele vrijdagmiddag bier, romanadvies, en goede conversatie op. Het multitalent Ken Brady, die ik voor het eerst had ontmoet tijdens de Writers of the Future-workshop in 2004, en opnieuw in 2005, verscheen plotseling op de Receptie, en leek nog steeds met volle teugen te genieten van zijn eigenzinnige levensritme. [stretch goal 1: heel oude vrienden terugzien – afgehandeld!]
De vreemde aan mijn signeertafel bleek Alex Li te zijn van SF Comet, de ambitieuze Chinese verhalenwedstrijd die maandelijks Chinese fictie–en significante geldprijzen–in de strijd gooit. In hun streven om de wedstrijd te verbreden en internationaliseren was Alex bezig om inzendingen van over de hele wereld te werven. Alex had mij opgezocht om me uit te nodigen om in te zenden–of liever, om me om te kopen, want hun strategie is om de internationale inzendingen te werven door de schrijvers semi-professionele tarieven te betalen. Mijn voorgangers in de wedstrijd zijn Mike Resnick en Nancy Kress. Grote namen om achteraan te komen, maar dat schrikt me in het geheel niet af! [stretch goal 2: een breder internationaal publiek bereiken – afgehandeld!]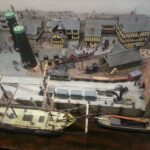 Toen we het toetje bijna hadden bereikt van ons uitstekende Chinese diner voorafgaand aan de Nederlandse Borrel, kregen Martijn Lindeboom, Grayson en ik gezelschap van Ad van Tiggelen, die flessen Shiraz, een zeer toegankelijke persoonlijkheid, en erg plezierige conversatie naar onze tafel bracht. Ad is niet alleen beter bekend als Adrian Stone, de meest succesvolle fantasyschrijver van Nederland, hij is bovendien bestuurslid van de onlangs opgerichte Stichting ter bevordering van het fantastische genre, die zowel de organisatie van de Paul Harland Prijs als de redactie van de fantasy-pagina's van Hebban.nl onder haar hoede heeft. Ad en ik hadden het tot nu toe consequent gepresteerd om elkaar steeds net niet tegen het lijf te lopen, en concludeerden al gauw dat onze ontmoeting ruimschoots over tijd was. [stretch goal 3: eindelijk Adrian Stone ontmoeten en spreken – afgehandeld!]
Een van de belangrijkste redenen waarom schrijvers naar Cons gaan is om te netwerken: andere schijvers ontmoeten, maar vooral ook uitgevers, agenten en redacteurs. Omdat ik zelfs al verlegen ben in gezelschap van bekenden in al te groten getale, en nog dubbel zo erg op grote evenementen, had ik dit doel van tevoren al opgegeven, met de gedachte om dat eens te proberen op de volgende Con, in 2017 of zo. Maar toen ik in de rij stond voor de beste koffie van ExCeL, stond ik plotseling oog in oog met Thomas en zijn redacteur bij Tor.com, Liz Gorinsky; Thomas stelde ons aan elkaar voor; de vraag "So what do you write?" werd gesteld; en toen stond ik daar, perfect in stelling gebracht om mijn novel te pitchen, maar volkomen gespeend van een voorbereide elevator pitch. Ik kreeg mijn tong aan de praat en flapte er een geïmproviseerde elevator pitch uit, en die kan niet al te beroerd zijn geweest, want Liz maakte aanmoedigende geluiden van interesse in buitenlandse auteurs, en wees op Thomas, die haar contactgegevens aan mij kon geven. [stretch goal 4 t/m 62059: redacteur ontmoeten, roman pitchen, een flikkering van interesse opwekken – afgehandeld tot de derde macht!]
Romantiek
En om er allemaal netjes een strikje om heen te binden, kreeg ik van elke schrijver die ik langer dan 20 seconden sprak bruikbare tips voor het schrijven van mijn roman, waaronder:
niet wakker liggen als het moeilijk lijkt, want het is moeilijk, en
niet wakker liggen als de eerste versie beroerd lijkt, want die hoort beroerd te zijn, en
niet wakker liggen als ik geen gedetailleerde synopsis heb, want de helft van alle romanschrijvers zijn rommelaars, en
zeker wakker liggen als ik geen goede bronnen bij de hand heb over het schrijven van een roman, want die zijn onmisbaar.
Cat spande daarbij in positieve zin de kroon, want verstrekte me een lange lijst van boeken over een breed scala aan aspecten van het schrijven van een roman. Als ik er zelf doorheen ben, zal ik hier zeker mijn eigen aanbevelingen plaatsen!
---
Nóg meer details over mijn ervaringen op LonCon3 zijn te vinden in mijn blogs voor Hebban.nl: donderdag, vrijdag en zaterdag.
---
De afbeeldingen ter linkerzijde zijn allemaal werken uit de Tentoonstelling. Van boven naar beneden: de Millennium Falcon, uit Lego gebouwd op schaal voor Lego-poppetjes, nauwgezet gereconstrueerd op basis van ontwerptekeningen en beeldmateriaal uit de films; De Stoel, een replica door een fan gebouwd van het meubelstuk dat een centrale rol speelt in een van de beste SF-romans aller tijden (volgens mij); een diorama dat de haven van Ankh-Morpork verbeeldt.
De afbeeldingen ter rechterzijde zijn allemaal waargebeurd.