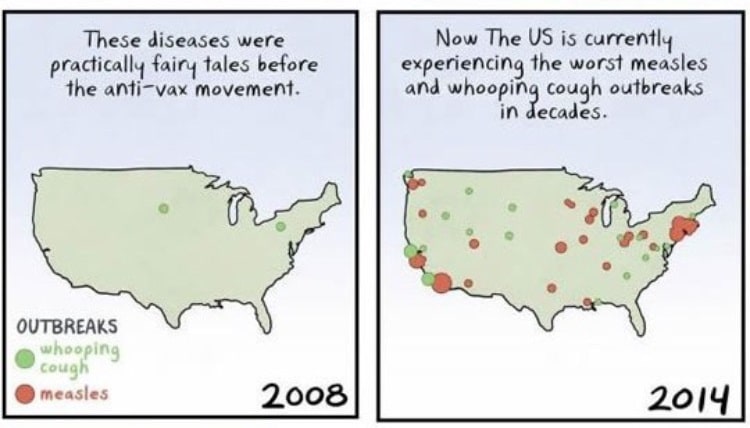 [ Read this in English ]
Gisteravond heb ik iemand ontvriend en geblokkeerd op Facebook na een discussie over vaccinatie.*
Hij was niet eens rabiaat fundamentalistisch over het onderwerp. Desalniettemin droeg zijn debatteerstijl alle kenmerken van de wijd verbreide desinformatiestrategie van de antivaccinatiebeweging. En daarom weiger ik mij nog langer te laten verleiden tot deze discussies. En daarom zal voortaan iedereen die dit debat probeert te voeren op mijn tijdlijn of mijn website, en die na meerdere waarschuwingen niet ophoudt, hetzelfde lot ondergaan als deze iemand.
"Maar discussie is goed," hoor ik je argumenteren. "Discussie maakt mogelijk dat deelnemers van gedachten veranderen, informatie en standpunten uitwisselen, wetenschappelijke kennis delen. Het monddood maken van het debat houdt louter onenigheid in leven en verhindert verandering."
Dat zou waar zijn als de gegeven omschrijving van de meerwaarde van debat van toepassing was op anti-vaccinatiespreekbuizen.
Maar dat is hij niet.
Proberen te discussiëren met een anti-vaxxer is, ook als hij zo mild fundamentalistisch is als de oud-Vriend van gisteren, een beetje als worstelen met een amoebe. Hij gooit er argumenten uit als schijnvoetjes, en zodra je er eentje van weerlegt, trekt hij die weer terug in zijn onveranderlijke lijf, en stulpt er een paar nieuwe uit. Erger nog: in tegenstelling tot amoebes zien de schijnvoetjes van de anti-vaxxers er verdacht vaak bekend uit, van een paar discussies geleden. Met andere woorden: anti-vaxxers hebben de vermoeiende gewoonte om rationele tegenargumenten uit de weg te gaan en in plaats daarvan het ingenomen standpunt te verlaten ten gunste van een nieuwe argumentatie. Eigenlijk voeren ze helemaal geen debat, maar een glibberige, guerilla-achtige tactiek die ze gemeen hebben met creationisten en andere religieuze fundamentalisten.
Sterker nog, anti-vaxxisme heeft meer gemeen met religie dan met wetenschap: argumenteren vanuit een geloof, maar dat geloof verstoppen achter pseudowetenschappelijke en schijnbaar rationele argumenten. Omdat het geloof de essentie is en niet de argumenten, worden die laatste even makkelijk verlaten als vooruitgeschoven verdedigingsposten.
De eerste reden waarom in het debat niet meer aanga met de anti-vaxxers is dan ook dat er niets mee te bereiken valt. De discussie gaat slechts oeverloos door, met een eindeloze parade van dezelfde sleetse argumenten tegen vaccinatie, hoe vaak en hoe grondig die ook zijn weerlegd. De anti-vaxxer zal niet van gedachten veranderen, en ik blijf achter met frustratie over de verspilde tijd en vieze handen van de amoebeprut.
De tweede reden waarom ik het debat niet meer aanga, is de logische drogreden die in het Engels "false equivalence" heet (hoe heet dat van bij ons?). Dat is de drogreden die twee tegenovergestelde standpunten als gelijkwaardig behandelt, domweg omdat ze beide bestaan. Deze drogreden is niet alleen in het vaccinatiedebat populair, maar maakt ook opgeld in evolutie versus creationisme, klimaatverandering versus ontkenners, en andere onderwerpen waarbij wetenschap en rede tegenover religie of andere irrationaliteit staan
Als je op tv een evolutiebioloog tegenover een creationist zet, lijkt het een eerlijke en uitgebalanceerdfe discussie. Beide kanten zijn gelijk vertegenwoordigd, en hebben allebei voldoende gelegenheid om hun argumenten voor het voetlicht te brengen. Maar het enorme verschil is dat de wetenschapper de vrijwel unanieme consensus van de wetenschappelijke wereld achter zich heeft, om nog maar niet te spreken van een eeuw aan onderzoek; de creationist heeft op zijn best dubieuze en dissidente wetenschap achter zich, en argumenteert vooral vanuit zijn geloof. Beide kanten bestaan, maar door beide kanten door één spreker te laten vertegenwoordigen, en ze evenveel ruimte te geven, creëer je een volkomen misleidend beeld van gelijkwaardigheid van hun argumenten.
Op die manier is onlangs bij Pauw een immunoloog onder tafel gepraat door drie mediagetrainde dames uit het antivaccinatiekamp. De wetenschapper was duidelijk veel minder op zijn gemak  voor de camera's, en het was dan ook niet erg verrassend dat de discussie leek te worden beslecht in het voordeel van de rabiate vrouwen. Niet omdat hun argumenten intrinsiek sterker waren, maar omdat de vertegenwoordiging van de standpunten enorm scheef was getrokken in het voordeel van de anti-vaxxers. Een eerlijk debat had één anti-vaxxers tegenover een menigte wetenschappers geplaatst en iedereen evenveel spreektijd gegeven, want zó liggen de verhoudingen in het debat.
Dus ik laat mij niet meer tot debat verleiden, omdat deze schermtijd voor anti-vaxxers de "false equivalence"-drogreden versterkt. Zelfs als elk debat weer een kwestie is van het wegduwen van dezelfde sleetse schijnvoetjes.
Ten slotte ga ik het debat niet meer aan omdat alle argumenten al zijn weerlegd, de pseudowetenschap ontmaskerd, de drogredenen blootgelegd, en niet één keer, maar talloze malen. Het patroon is nu wel duidelijk. In het verleden heb ik nog wel eens de moeite genomen om zelf in de materie te duiken die anti-vaxxers te berde brachten. Autisme. Thiomersal. Kwik. De farmaceutische industrie. Formaldehyde. Telkens weer ontdekte ik wat het antwoord van de wetenschappelijke wereld was: Nee. Weerlegd. Ontmaskerd. Bewezen onwaar. Maar anti-vaxxers blijven ermee komen, en als ze door de oude argumenten heen zijn, verzinnen ze gewoon weer nieuwe. Dat patroon ken ik nu wel: weerleggen en ontmaskeren maken geen verschil, omdat anti-vaxxers geen boodschap hebben aan de wetenschap, schijt hebben aan hun eigen argumenten. Hun kruistocht tegen vaccinatie is een religie en daarom net zo resistent tegen rede als elk ander geloof.
Wat ik wel ga doen is feitelijke informatie blijven plaatsen, in de hoop dat dit er mede toe leidt dat steeds minder ouders van het padje af raken en het een goed idee gaan vinden om hun kinderen bloot te stellen aan de risico's van ziektes die ze helemaal niet meer hoeven te krijgen.
En als ik daarbij in het voorbijgaan nog wat anti-vaxxers boos kan maken, is dat mooi meegenomen, want mensen die het schuim om de mond staat zijn veel minder effectieve fundamentalisten.
---
PS: Reacties zijn uitgeschakeld voor dit bericht. Als je wilt reageren, ben je welkom op mijn Facebook-pagina.
---
* De Imgur-cartoon die leidde tot de discussie, het ontvrienden, en dit hele blogbericht staat hieronder.