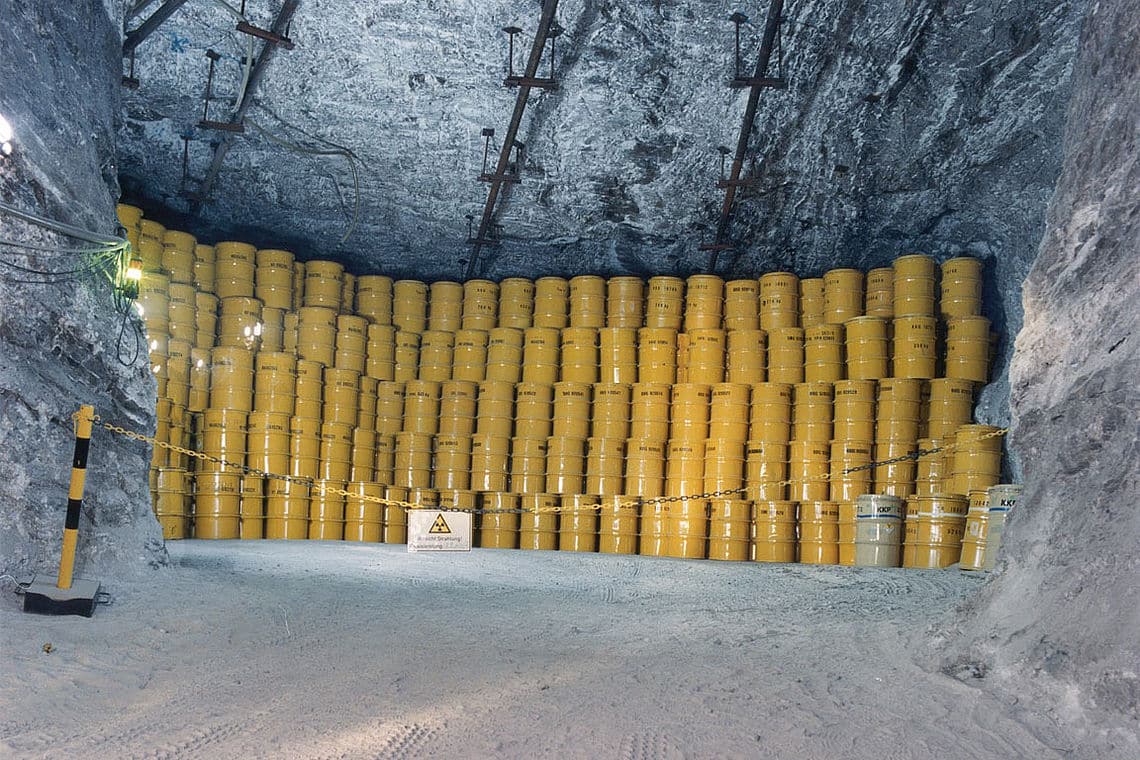 [ Read this in English ]
Voorstanders van kernenergie claimen graag dat hun lievelingsenergiebron zo schoon is. Ik sta perplex van dat argument, niet perplex als retorisch middel, maar perplex in werkelijke, "ik-begrijp-er-niks-van"-zin. Schoon? Hoe bedel je, schoon? Heb je hier wel voldoende over nagedacht? Ik kan geen menselijke activiteit bedenken die het predicaat 'schoon' minder verdient dan kernenergie.
Want in werkelijkheid zijn er drie onoverkomelijke problemen met kernenergie. Wees gerust, ik zal je niet vervelen met het risico van woestenij-makende ongelukken. Geen Tjsernobyl-verhalen van mij, dat beloof ik. (Al is het maar omdat Tsjernobyl, en Three Mile Island, en Fukushima zelf al voldoende argument zijn.)
De drie problemen met kernenergie zijn:
1. afval,
2. afval en
3. afval.
En ook hier bedoel ik dit niet retorisch of flauw. Ik bedoel echt dat er drie onderscheiden (hoewel onderling gerelateerde) onoverkomelijke onacceptabele problemen zijn met kernafval. Afdoende redenen, zou ik willen stellen, om altijd en onvoorwaardelijk tegen kernenergie te stemmen.*

Afval 1 – Struisvogelgedrag
Kernafval is gevaarlijk, en blijft duizenden jaren gevaarlijk. De voorkeursstrategie om dat gevaar te ondervangen is om het kernafval in loden vaten te doen, en het ergens onder de grond te stoppen waar het zogenaamd geen kwaad kan.**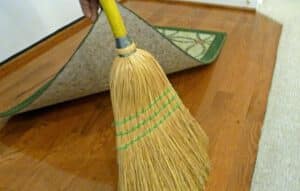 Het verbijstert me echt dat deze strategie volgens sommige mensen ergens op slaat. Het is precies hetzelfde als stof onder het tapijt vegen. Als je het niet ziet, bestaat het niet? Dat is waar totdat iemand het tapijt naar buiten wil tillen om het eens goed uit te kloppen. Kijk nou eens, er ligt een bult stof!
Ik geef toe dat er niemand met een mattenklopper los zal willen gaan op de bovenkant van een verlaten zoutmijn; daar loopt de metafoor stuk. Maar er zijn eindeloos veel andere manieren waarop de beveiliging of afscherming van het afval mis kan gaan. En er is vrijwel niets bekend over de effecten op de lange termijn van ondergrondse opslag van kernafval (zie Afval 3).
Ik bedoel, het is toch bijna kinderlijk? Stop het ergens weg waar niemand het ziet, en als je het niet kan zien, dan bestaat het probleem niet. Ik hoop dat de mensheid die infantiele manier om problemen op te lossen zo langzamerhand wel is ontgroeid.

Afval 2 – Hoeveelheid is een functie van tijd
Ik besef dat het verleidelijk is om te claimen dat kernenergie relatief weinig afval produceert. En als je naar de absolute getallen kijkt, naar hoeveel er jaarlijks wordt afgevoerd, en na hoeveel productief gebruik van het materiaal, is het zelfs soort van waar.
Maar.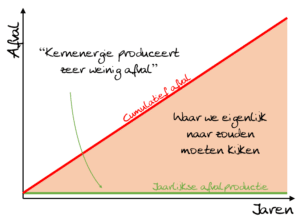 Het kwantificieren van afval is alleen betekenisvol als je meerekent hoe lang je ermee opgescheept zit. En we weten allemaal (of zouden moeten weten) dat we met ons kernafval duizenden jaren opgescheept zitten***. Dus de werkelijke hoeveelheid kernafval moet worden berekend door de jaarlijkse hoeveelheid te vermenigvuldigen met het verwachte aantal jaren voordat het afval veilig is. Dat is de hoeveelheid waar je rekening mee moet houden als je serieus meent dat kernafval een duurzame energiebron kan zijn. Dat is de hoeveelheid veilige opslag die je nodig hebt.
Anders bekeken: de hoeveelheid gevaarlijk afval blijft groeien zolang de eerste lading nog gevaarlijk is. En als die niet meer gevaarlijk is, neemt de hoeveelheid daarna niet af; ze stabiliseert. Dat is een kolossale hoeveelheid gevaarlijk afval.
En een belangrijk zijstapje: stel je eens voor hoeveel loden vaten (of wat voor toekomstig opslagmiddel er gaat worden gebruikt) ervoor nodig zouden zijn. Duizenden jaren aan vaten. Bestaat er überhaupt zoveel lood (of …)? En zo ja: willen we al dat materiaal dan vastleggen in een doodlopend afvalbehandelingsproces?
Als iets enorm lang duurt (zoals verval van kernafval), dan is de enige zinvolle manier om ernaar te kijken de lange-termijnblik. Wat me brengt op:

Afval 3 – De mensheid is notoir slecht in de lange-termijnblik
Probeer je tienduizend jaar voor te stellen****. Probeer je voor te stellen hoe de wereld over tienduizend jaar is. Probeer je voor te stellen hoe de mensheid over tienduizend jaar is.
Heb je een beeld in je hoofd?
Fout!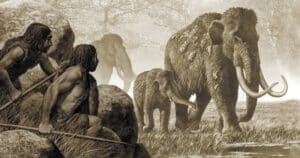 Je kan je niet voorstellen hoe de wereld en de mensheid over tienduizend jaar is. Tienduizend jaar geleden liepen er nog mammoeten en sabeltandtijgers rond, was een dierenvel de nieuwste mode, en bestond het woordenboek uit een bescheiden repertoire aan grommen. Stonehenge en de piramiden lagen duizenden jaren in de toekomst. De zogenaamde menselijke beschaving moest zelfs in China nog zijn voorzichtige start maken.
En kijk ons nu toch. We schuiven ons kernafval in zoutmijnen, zetten waarschuwingsbordjes en hekken neer, en verwachten dat de opslag een vergelijkbare onvoorstelbare periode lang veilig zal blijven.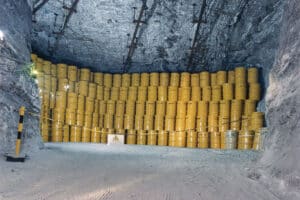 Luister, in zo'n lange periode zou echt álles mis kunnen gaan. Er zou een vulkaan kunnen uitbarsten onder de opslag. Hoe zouden we het vinden als er zich een combinatie van hete as en nucleaire fallout over het gebied zou verspreiden? Of radioactieve lava?
Natuurlijk is dat een extreem scenario, en de locaties worden ongetwijfeld gekozen om hun geologische stabiliteit (maar toch… tienduizend jaar, mensen!) Maar sommige andere dingen zullen in zo'n lange periode zéker gebeuren.
Mensen zullen veranderen, en ze zullen vergeten. Waarschuwingsbordjes en hekken zullen verdwijnen. Waarschuwingsbordjes zullen onleesbaar worden, niet alleen domweg door weer en wind, maar omdat mensen de taal en de symbolen niet meer zullen kennen waarin ze geschreven zijn. (Ja, ze zullen ook vergeten om de bordjes bij te werken of te vervangen.) Documentatie en archieven over de opslag zullen verloren gaan, vernietigd worden of onleesbaar raken. De beschikbare informatie zal voor onze verre nazaten het equivalent zijn van spijkerschrift.
Te geloven dat de mensheid in staat is tot een onderneming van zulke lange adem is eerlijk gezegd een waanidee.
De ultieme conclusie is dat het begraven van ons kernafval betekent dat we het probleem doorgeven aan toekomstige generaties. En hoe beter we nu zijn in begraven, hoe verder die generaties in de toekomst zullen liggen, en hoe rampzaliger het zal zijn als zij alles over de opslag volledig zijn vergeten, en dat fascinerende nieuw ontdekte grottensysteem gaan verkennen. Het zou zijn als een kuil graven in je tuin en ontdekken dat de vorige eigenaar er asbest heeft begraven, maar dan ontelbare grootte-ordes erger.
Zo'n overdracht aan toekomstige generaties is volgens mij–en weer bedoel ik dit niet retorisch, maar letterlijk–een diep kwaadaardige daad jegens onze eigen afstammelingen.
Om een lang bericht nog langer te maken…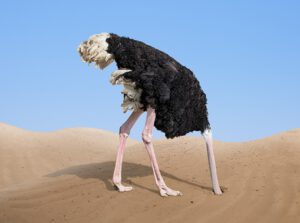 Ons kernafval onder de grond begraven is een kinderachtige struisvogelstrategie, vergelijkbaar met onder het tapijt vegen. De hoeveelheid afval waar we rekening mee moeten houden is ordes van grootte meer dan we willen toegeven. En de stabiliteit en veiligheid op de lange termijn van de opslag van kernafval zal zeker gecompromitteerd raken, waarmee deze stategie een kwaadaardige daad is jegens toekomstige generaties.
Vertel me nog eens dat kernenergie schoon is?
---
* Ja, afval van fossiele brandstoffen is ook heel slecht. Dat is echter geen argument voor kernenergie, maar bewijst louter dat beide onacceptabel zijn.
** Ja, ik maak het simpeler dan het is.
*** En zeg nu niet dat het slechts onder de grond wordt gestopt tot we een betere oplossing hebben. Om te beginnen is dat louter een andere manier van zeggen dat we het probleem overdragen op toekomstige generaties, en dat is net zo kwaadaardig als elke vorm van problemen dumpen naar de toekomst. Maar bovendien is een oplossing pas duurzaam als hij nú duurzaam is, niet in een of andere hypothetische toekomst waar onze afstammelingen hopelijk een betere aanpak weten. Dat is geen probleemoplossing, dat is magisch denken.
**** Ik realiseer me dat verschillende soorten kernafval verschillende halfwaardetijden hebben, van decennia tot miljoenen jaren. Voor mijn betoog neem ik het gemiddelde op basis van wat Sting zong over 14C.