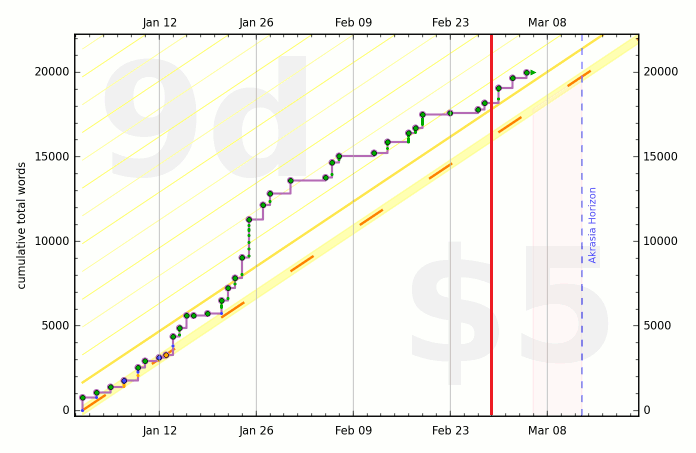 Still going strong. The second month of my 100K year (the year in which I enlist the help of Beeminder to write at least a hundred thousand words) has yielded:
a pro sale of one of my January stories;
8680 words of newly drafted, edited or revised short fiction;
1170 words of edited or outlined novel;
two brand new science fiction stories;
a comfortable nine days weeks of safety buffer (meaning I didn't need to write a word in March up to today–which of course I did anyway);
above all, the happy and accomplished feeling of having written and been productive most every day of February
And March is already well on its way with more productivity! Next month will bring:
completing the translation of my Harland Awards story in preparation for Villa Diodati 16 in April;
pre-submission revisions on my third Codex Weekend Warrior story;
pre-submission revisions on my Codex Rummage Sale story;
final layer of polish on the prologue and first three chapters of said thriller;
a two-page synopsis to go with the prologue and chapters;
sending the whole package out to agents and publishers!