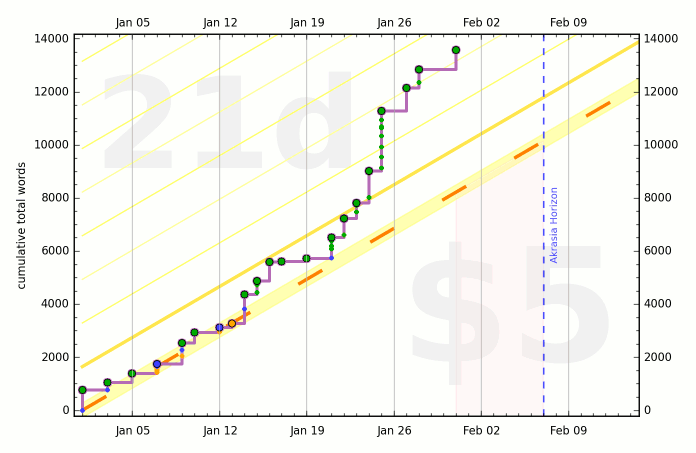 So far, so excellent. The first month of my 100K year (the year in which I enlist the help of Beeminder to write at least a hundred thousand words) has yielded:
13580 words of newly drafted fiction, edited or revised fiction, and critiques of other writers' fiction (taking into account how I tally my productivity, the actual number is closer to 20K);
half a first and an entire second draft of a brand new science fiction story for a by-invite anthology;
4 (yes, that's four) brand new flash fiction stories for the Codex Weekend Warrior context (one of which is being held for consideration at Daily Science Fiction);
a very comfortable three weeks of safety buffer (meaning I could take a break and start writing again somewhere in the 2nd half of February–which of course I won't).
above all, the happy and accomplished feeling of having written and been productive almost every single day of January.
February, here I come! Next month will bring:
the final round of Weekend Warrior, so another completed flash fiction story;
pre-submission revisions on my third Weekend Warrior story;
completion and polish of the outline to my Dutch thriller;
final layer of polish on the prologue and first three chapters of said thriller;
a two-page synopsis to go with the prologue and chapters;
sending the whole package out to agents and publishers!