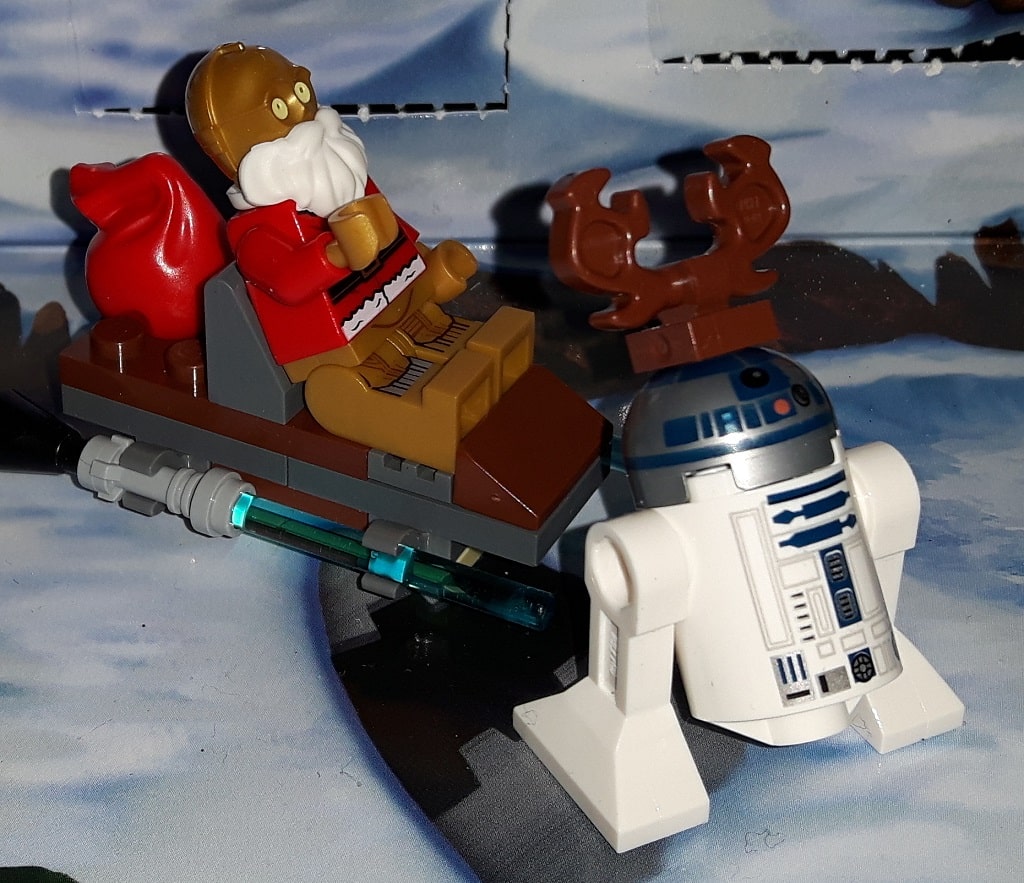 [ Lees dit in het Nederlands ]
Now that Christmas 2015 has come and gone, this post is a list of the Lego microsets in their Star Wars advent calendar for 2015, including the (provisional) identification, a picture of the set, and a screen shot of the movie scene it appears in, if possible. All sets are from the original trilogy (ANH = IV A New Hope, TESB = V The Empire Strikes Back, RotJ = VI Return of the Jedi).
Disappointingly, this Advent Calendar contained three not particularly interesting weapons racks (the Hoth Command Post counts as such), and of the remaining 21 sets, only Jabba's sail barge (Dec 1), the LIN Demolitiontech (Dec 3), the Ewok ballista (Dec 7), and the XX-9 Heavy Turbolaser (Dec 15) were not shown plainly on the box.  So much for finding surprises behind the little doors!
Dec 1 – Jabba's Sail Barge
Dec 2 – Sarlacc Pit
Dec 3 – LIN Demolitionmech
Dec 4 – Jawa
Dec 5 – Jawa Sandcrawler
Dec 6 – Ewok drum-slash-weapons-rack
Dec 7 – Ewok village
Dec 8 – Ewok
Dec 9 – Ewok ballista
Dec 10 – Stormtrooper
Dec 11 – Imperial Star Destroyer
Dec 12 – Weapons rack
Dec 13 – IG-88 Assassin Droid
Dec 14 – Millennium Falcon
Dec 15 – XX-9 Heavy Turbolaser
Dec 16 – A-Wing Fighter
Dec 17 – Hoth Rebel Trooper
Dec 18 – AT-AT
Dec 19 – Hoth Ion Cannon
Dec 20 – Viper Probe Droid
Dec 21 – Hoth Command Post
Dec 22-24 – San-3PO on his Laser Sleigh pulled by R2 the Red-Eyed Reindroid