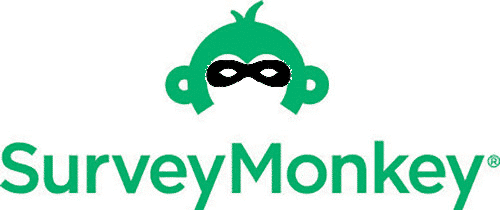 Update 2: SurveyMonkey has caved under the pressure of hundreds of page hits, shares, and retweets of this blog post, and granted me a full refund and a 6-month complimentary subscription.
---
Update: SurveyMonkey has reacted to my complaint by restructuring their entire pricing model.
---
Repeat after me:
Sur – Vey – Mon – Key
Steals – Your – Mon – Ey
Sur – Vey – Mon – Key
Steals – Your – Mon – Ey
So I created a survey for work, and to access the advanced analysis services and obtain a downloaded Excel spreadsheet of the responses, I proceeded to purchase an individual SurveyMonkey subscription (at my employer's expense, obviously).
The individual subscription was advertised at 39 euros. After I started the ordering process, and specified my country of residence, the subscription remained advertized at 39 euros. When the process offered me a choice of invoicing cycle, the monthly invoicing cycle offered was priced at 39 euros. In the final Check Order step, I checked the amount, and the amount was… 39 euros. At the bottom of that page, it even specified that after clicking Pay, my credit card would be charged 39 euros.
I clicked Pay.
Imagine my surprise and dismay when not 39, but 99 euro were charged to my credit card!
Of course, I contacted SurveyMonkey customer service about the discrepancy. The following dialogue ensued:
My name is Arran and I'll be assisting you with your query. I hope you're having a good day so far. 🙂
We offer each of our plans all over the globe. In order to stay competitive in an international marketplace, our pricing can differ from country to country. We take currency fluctuation into account, as well as the price for similar services in a given market.
Occasionally, we test new pricing within a market to help us gauge a fair and competitive price. We make sure to be as transparent as possible by showing you the exact amount you'll be charged before you submit your payment information.
Well, we were off to a good start. Arran supplied a first response that has no relation whatsoever to my problem. Fortunately, I was still in patient-and-hopeful mode.
Thanks for the quick reply. Your not answering my question, however, dashing your hopes that I'm having a good day.
The price for my subscription was listed as 39 euros in all phases of purchase process, also after I specified The Netherlands as my country.
Please proceed with my 60 euro refund.
Huh. Do you have screen shots of that?
Of course I didn't have screenshots. But in the spirit of our joint effort to resolve this, I entered the purchase process once again, and made screenshots of each step, even helpfully highlighting the seven places where the price of 39 euros was specified.
Thank you very much for those screenshots.
This allows us to narrow down the issue causing this and resolve the issue on your behalf.
In relation to a refund of the difference, I'm forwarding your email to a specialist who can help you with this. They'll get back to you in about 2-3 business days. Thanks for your patience.
I wasn't clear on what patience he was referrring to, since mine had worn thin by then (we were two days into this process). I was also confused why a specialist needed to be invoked for my refund. So I sent Arran a bit of encouragement:
Can you please expedite the process? I don't much feel like paying creditcard interest on money I shouldn't have been charged in the first place.
This prompted Kaleigh, the "specialist", to respond:
Kaleigh here with the Billing Team–thanks for reaching out and apologies for the discrepancy here.
Our team is currently reviewing the issue you experienced and should have more information for you tomorrow. Please let me know if you have any questions in the meantime.
Please trust that we're investigating to find the best solution for your account–we appreciate your patience.
Note that she says they're "investigating to find the best solution"–as if there is any conceivable solution other than giving me back my 60 euros.*
And of course, like Arran, Kaleigh refers to this mysterious "patience" I was supposed to have. Time to let her know that I did not actually have any of it.
Thanks for picking up this issue. What I'd like to see happen is this:
1. You (SurveyMonkey) confirm that my creditcard should have been charged 39 euros, as priced in all steps of the purchasing process.
2. SurveyMonkey refunds the additional 60 euros it took from me.
And since my creditcard charges interest over my balance, I'd like to see this happen with some speed. I appreciate the need for an investigation, but it would make sense to me if you could handle the refund and the root cause investigation in parallel. After all, my refund does not depend on the result of the investigation.
Thanks!
Kaleigh's promise of more information "tomorrow" made the whooshing sound of a Douglas Adams deadline. Four days later, I felt it prudent to prod:
The tomorrow you promised is now two business days behind us. Please respond.
And when that yielded no response whatsoever, I followed up with:
If I don't have a response and a 60-euro refund by end-of-business today, I will proceed to contest the credit card charge, and thus obtain a full refund, leaving SurveyMonkey with zero revenue instead of 39 euros.
Given a possible time zone difference, I will act tomorrow morning my time.
This finally got a rise out of Kaleigh:
Apologies for the delay in getting back to you. We unfortunately don't have a resolution at this time. We are partnering with our engineers and product team to ensure that we provide you with a solution.
In the meantime, you can certainly file a dispute on your end while we continue to work things out. That said, I'm afraid disputed charges are ineligible for a refund.  So you'd want to continue working with your bank if that's the route you plan to take.
Hope this helps clear up any confusion and point you in the right direction.
So, to recap:
SurveyMonkey priced their product unambiguously at 39 euros.
SurveyMonkey charged me 99 euros, a 154% illegal price hike.
SurveyMonkey refuses to acknowledge that they've overcharged me.
SurveyMonkey refuses to offer any kind of solution, let alone a refund.
Next step: contesting the charge with my credit card company. Plus, of course, writing this Customer Service blog post for your enjoyment, and their inconvenience.
---
* Incredibly, there was a better solution in their eyes: restructuring their entire pricing plan to match the erroneous amount they charged me. Read my next blog post for the details.