[ Read this in English ]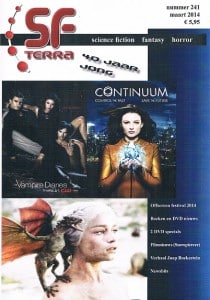 Geheel onverwacht is vandaag een Nederlandse vertaling van mijn verhaal Beans and marbles gepubliceerd in SF Terra, onder de—erg goed gevonden—titel In de bonen. Ik ben er nog niet helemaal uit of ik het van de daken moet schreeuwen, in toorn moet ontsteken, of schaterlachend van mijn stoel moet vallen.
Twee jaar geleden, tijdens Villa Diodati 10, zaten mijn mede-workshopleden en ik een middag tezamen om eens ongebreideld zo veel mogelijk verhalen in te zenden voor publicatie in verschillende media.* Dankzij de Foreign Market List ontdekte ik die middag dat zowel Wonderwaan als SF Terra zich wel eens schuldig maken aan het vertalen en publiceren van Engelstalige verhalen. Opgetogen stuurde ik twee van mijn verhalen in**; publicatie in een Nederlands tijdschrift leek mij een leuke en eervolle toevoeging aan mijn bibliografie.
Daarna gebeurde twee jaar lang Helemaal Niets.
Tot er vanmorgen opeens een vers gedrukt exemplaar van SF Terra nr 241 op mijn mat lag…
---
* Ik neem geen verantwoordelijkheid voor de term "submission orgy" die anderen wellicht hebben gebezigd in deze context.
** Waarmee, na decennia van Nederlandstalig schrijven, een bijna-publicatie in Ganymedes–dat direct na mijn inzending werd opgedoekt–en een decennium van schrijven en publiceren in het Engels, de cirkel op bizarre manier weer rond was.