[ Lees dit in het Nederlands ]

short SF story

It's a great job with great pay, you just can't be totally human to get it. .
Publication history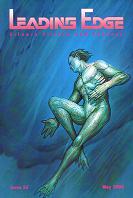 First published in Leading Edge, Issue 55 (May, 2008)
Reprinted in Polish translation in Grupa Wydawnicza Alpaka as Diamentowe rekiny (December 14th, 2018)
Reprinted in Mermaids Monthly Magazine (February 20th, 2021)
To be reprinted in Catalan translation in Catarsi (forthcoming)
Diamond Sharks was translated into Dutch as Diamanthaaien.
Reviews
The Fix reviewed Leading Edge Magazine, Issue 55 (2008-08-01):
"[…] Floris Kleijne offers a riveting story with "Diamond Sharks". […] This story of self-discovery is presented in a beautiful setting, nicely complemented by the illustrations of Michael Madder."