[ Read this in English ]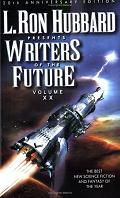 Tijdens de Writers of the Future-workshop en prijsuitreiking van 2005 werd een documentaire opgenomen. De hele documentaire is hier te zien.
Geen andere gebeurtenis heeft bij benadering dezelfde impact op mij als schrijver gehad als de Writers of the Future-wedstrijd en de bijbehorende reeks anthologieën. In 2003 behaalde Conversation with a Mechanical Horse de status van gepubliceerd finalist, om in 2004 te verschijnen in Vol.XX van de Writers of the Future-anthologie. In 2004 was Meeting the Sculptor eersteprijswinnaar voor Q4; die novelle werd gepubliceerd in de Writers of the Future-anthologie, Vol.XXI. Het is moeilijk onder woorden te brengen hoeveel verschil dit heeft gemaakt voor mijn schrijven.
De Writers of the Future-wedstrijd en workshop is in het leven geroepen door de zeer productieve en succesvolle science fiction-schrijver L. Ron Hubbard, om nieuwe auteurs in de speculatieve genres te ontdekken en aan te moedigen.
Beginnende schrijvers in deze genres van over de hele wereld kunnen hun verhalen inzenden voor de wedstrijd. De eerste, tweede en derde plaatsen worden bepaald door een jury van gevestigde auteurs; de lijst van oud- en huidige juryleden is niet te onderscheiden van een opsomming van de Groten uit de science fiction en fantasy. Er is geen deelnamegeld verschuldigd, en het prijzengeld is significant, maar dat is verreweg de minst belangrijke drijfveer om in te zenden.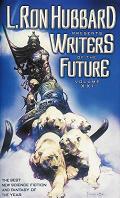 Om te beginnen worden de twaalf winnaars per jaar (drie per kwartaal) gepubliceerd in de Writers of the Future-anthologie, een etalage van nieuwe speculatief talent die regelmatig de bestsellerlijsten haalt.
Maar de Writers of the Future-workshop, die een volle week duurt, is nog belangrijker en waardevoller. Winnaars worden op kosten van de organisatie naar de workshoplocatie gevlogen (eerdere locaties waren onder andere het John F. Kennedy Space Center, Hollywood Boulevard en de Seattle Public Library en het Science Fiction Museum).
Daar ondergaan ze vijf volle dagen intensieve training en coaching. De workshop is een stoomcursus professioneel schrijven, gegeven door uitmuntende auteurs als Tim Powers, K.D. Wentworth, Kevin J. Anderson en Anne McCaffrey, auteurs die het klappen van de zweep echt kennen.
Het is moeilijk een efficiëntere of effectievere manier te bedenken om de ins en outs van professioneel speculatief schrijverschap te leren. En om gelijkgestemden, geestverwanten te leren kennen is de workshop van onschatbare waarde. Voor mij heeft hij het verschil gemaakt tussen verhalen schrijven als hobby en twee van mijn verhalen in internationaal onderscheiden anthologieën zien verschijnen.
Bezoek de website voor meer informatie.
Je kan ook een blik werpen op mijn fotoalbums van de workshops van 2004 en 2005.